William Hale born 1809, Woolwich.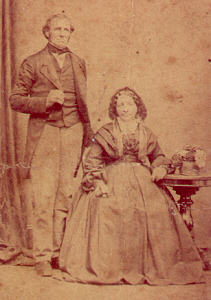 William Hale was the first born child of William and Mary Hale. Born in Woolwich, Kent, in 1809, he was not baptised until the age of 19, along with his sister Elizabeth, 17, and brother Thomas, 15, in the Parish Church of Chislehurst, some 6 miles south of Woolwich. As a young man he learned the trade of Carpentry, probably serving no formal apprenticeship but learning his trade skills from his father. The age of apprenticeship was between 10 and 18, to be completed by the age of 21. Being taken into the family trade means that he probably started learning his skills at the younger age of 10.
At the age of 23 William married Harriet Hale, who possibly was his father's cousin, in the Parish Church of St. Nicholas, Deptford, on 30 September 1832. Harriet Hale was born in Woolwich in September 1813, the fourth child of Charles Hale and Charlotte Fry. She was 19 at the time of her marriage. The marriage was witnessed by a James Gray, Mary Ann Kullin, and Harriet's sister Hannah. It seems that William and Harriet's was a double wedding, for a Stephen Monkton and Elizabeth Bullin married in the church on the same day, their marriage also being witnessed by James Gray, and a James Farlie, who married Harriet's sister Hannah in St. Nicholas', Deptford, on January 20 of the following year. William is recorded as being "Of This Parish", so presumably he was living in Deptford. However, at this time William's father owned a Carpentry business on Blackheath Hill at Greenwich about one mile from Deptford village, so he was possibly residing with the family there.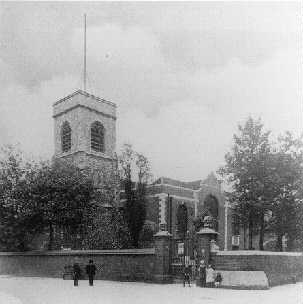 Saint Nicholas Church, Deptford Green, Kent.
Mary was William and Harriet's first child, born in Woolwich in December 1838 at No.1 New Buildings, one hundred yards from the banks of the River Thames. They remained residents of New Buildings for at least four years after Mary's birth, being recorded there in the population Census of Sunday 6 June 1841, and upon the birth of their second child Charlotte in April 1842. Harriet's Widowed mother Charlotte, a Milk Seller, and her brother Benjamin, a Shoemaker, were also listed as residents of New Buildings in the 1841 Census.
By March 1844, when William and Harriet's second daughter Charlotte died of scarlet fever aged 1 year 11 months, the family had moved to No. 18 Wellington Street, just half a mile from New Buildings. Charlotte was buried by the Rector W. Greenlaw on 10 March 1844, in the churchyard of St. Mary Magdalene, Woolwich. Emma, their third child, was born there in December of that year, but by April 1849 when their first son William was born they had moved again, four hundred yards east to No. 11 Sprays Buildings, in the district of Plumstead. Their next child, Sarah, was also born in Sprays Buildings, in July 1851. The population Census taken on the evening of Sunday 30 March 1851 records them at this address, with William's half brother Henry also present.
Wellington Street, Woolwich, was quite up market, and a move to Sprays Buildings meant that William had gone down in the world. The 1850's were a time of great expansion in Woolwich, and shortage of accommodation was a problem. The dockyards were expanding, and new technology was being introduced. William may have been overcome by the new technology emerging in his trade through the Dockyards in the early 1850's, which left many of the older tradesmen behind, resulting in a forced move to cheaper accommodation in Sprays Buildings.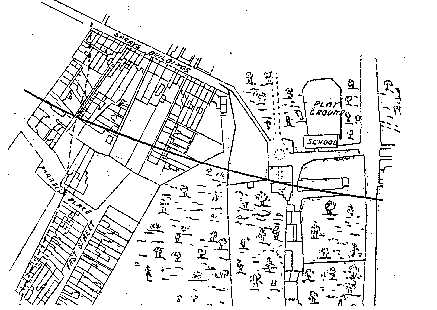 Map of Sprays Buildings, Plumstead, 1845.
Conditions in the Woolwich region were notoriously bad. There was a high mortality rate in the poorer districts, and the town was thoroughly riddled with cesspools, many of which were pumped out into the streets. Butchers and fishmongers emptied their slops into the streets every morning, and blood and offal from the slaughterhouses flowed down open gutters. The roads were poorly made, in summer being soon reduced to dust and in winter to mud, which quickly choked the gutters in heavy rains, causing their contents to be spread across the roadways.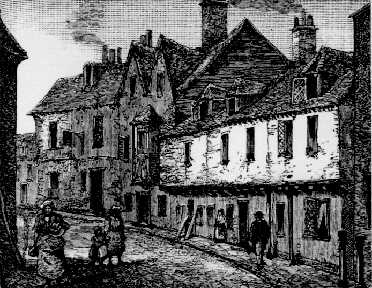 Hog Lane, near New Buildings, Woolwich. Both New Buildings and Sprays Buildings were of similar construction, and terribly overpopulated.
The water supplied to the town by the Kent Water Company was expensive, and of poor quality and quantity. Dwellings were overcrowded, and the churchyard was over full. Dysentery, diarrhoea, typhus, cholera, and erysipelas were all prevalent in the district. The many acres of stagnant water and undrained bogland of the adjacent Plumstead Marshes to the east resulted in a large number of cases of ague, fevers, jaundice, neuralgia, diseases of the liver and spleen, and marsh malaria.
William and Harriet lived in one of those poorer districts. Spray's Buildings was laid out on an area of Burrage Estate by a Mr. Spray around 1800, but by 1880 the area was so foul and decrepit that the entirety of Sprays Buildings was demolished. In such areas the putrid stench was unbearable. It was under these conditions that William and Harriet Hale applied for passage to Australia as assisted emigrants.
With their application approved, they set sail for Plymouth, Somerset, from Gravesend in Kent, on board the ship Eliza. On 30 November 1852 the Eliza, a barque of 682 tons, departed Plymouth under the command of Edwin Thomas Sturdee on a 100 day voyage to Portland Bay, Victoria, a journey which would be reminiscent of life in Woolwich. Cold and dreary weather accompanied the Eliza's voyage. Death was aboard the ship. The hatches remained open for fresh air, yet conditions were oppressive in the steerage compartments, which stunk with the smell of sea sickness. Of the Eliza's 330 passengers, 41 died during the course of the voyage, 21 of those due to an outbreak of measles. The Eliza arrived in Portland Bay on 9 April 1853.
Upon arrival in the Colony William was engaged on 14 April 1853 by J. Dowley of Portland for 10/6d without rations. It was in fact Richard Dowley who employed William, though it seems that his wife Jane was responsible on this occasion for the hiring of labour from the newly arrived emigrants. Richard Dowley, Carpenter, his wife Jane, and daughter Margaret, from County Tipperary, Ireland, arrived in Port Phillip Bay on board the ship Alexander in December 1840, and made their way to Portland where Richard began business in Gawler Street as a Timber Merchant and Builder. A notice placed in The Portland Guardian (18) on 8 January 1849 advertises :
FOR SALE
FOUR THOUSAND feet Cedar Boards, assorted 20,000 V. D. Land Shingles.
Doors & Sashes made to order on shortest notice.
Richard Dowley.
Gawler-street, west, Portland.
------------------------------------------------------------------
Mrs. DOWLEY HAS FOR SALE
BONNETS, TRIMMINGS, &c., &c.
Hats and Bonnets cleaned and altered with neatness and dispatch.
By 1850 Richard Dowley was operating from Henty Street, and it was probably from these premises that William Hale was employed, making gates, doors, window sashes, roofing buildings with shingles, and building cottages. He was also, according to family history, the "Master Builder" of a two story house at 65 Julia Street, Portland, named Claremont, built for Steven J. Henty, and of "another old stone building nearby", reputedly opposite Claremont in Julia Street. Claremont was built sometime between March 1853 and January 1854, so it is possible that Richard Dowley first employed William to work on this property, though his remembered status of Master Builder has somewhat glorified his position.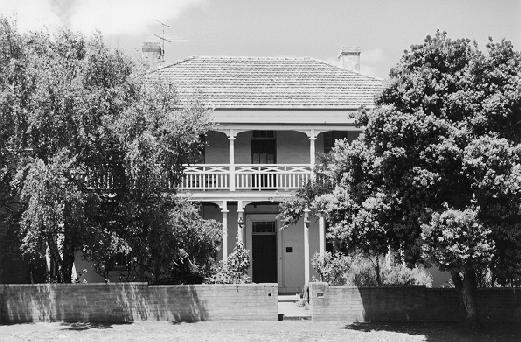 Claremont, Julia Street, built between March 1853 and January 1854 for Stephen Henty.
Upon arrival in Portland William and Harriet took possession of land containing a small building in Glenelg Street where No. 10 stands today. At the time cottages were constructed at the front and rear of these blocks, and it appears that initially William and Harriet occupied a small building somewhere on this site, while a Joseph Haggeston occupied the neighbouring small timber cottage which today is No. 8 Glenelg Street. Research suggests that the timber cottage that now occupies the site at No. 10 was built sometime between 1853 and 1857, and therefore presumably by William Hale, as he was a Carpenter and Builder by trade and was working as a Builder in the town. Certainly this building was in existence by February 1857, as William and Harriet's daughter Jane was born there in that month.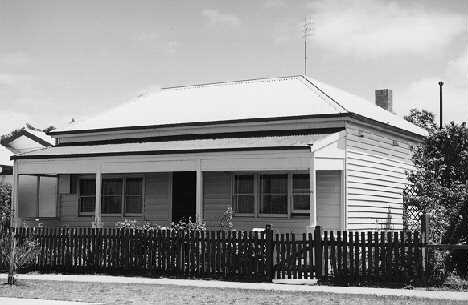 No. 10 Glenelg Street, Portland. It's appearance today dates from the late nineteenth century.
William soon established his own business in Portland as a Carpenter and Builder, but little is known of his business activities. The 1856 Electoral Roll of Victoria (Portland Division), records William Hale of Glenelg Street, a Joiner by trade, as having a Freehold property in Glenelg Street, which he occupied. In 1857 the property was described as a cottage, outbuildings and yard, and was valued at £30.0.0. The outbuildings are elsewhere described as workshop, so it must be assumed that William ran his business from the premises.
The Portland Rate records that by 1865 the property had been sold to Joseph Haggeston, the owner of No. 8 during the late 1850's. It is possible that William was forced to sell due to financial difficulties associated with his business. Haggeston had sold No. 8 to John Shacklock around 1862 before buying William Hale's property a few years later. William and Harriet remained resident in No. 10 after selling to Haggeston, renting the property from him for the rest of their lives. No. 10 Glenelg Street remained the family home until 1928.
William and Harriet's first Australian child, Elizabeth, was born on 7 November 1854. There is no official registration of Elizabeth's birth, and though there is no record of her baptism it was probably performed by the Wesleyan Minister William Lightbody in the Percy Street Wesleyan Chapel, Portland. The younger children William and Sarah were baptised there on 4 May 1854, raising the possibility that Mary and Emma also were baptised at the same time.
Two more children were born to William and Harriet after their arrival in Australia. Jane was born on 11 February 1857 in Portland, and a son, Richmond, was born on 29 October 1859, but he died after only 2 years on 26 November 1861. He was buried the following day in the Wesleyan Section of Portland's North Cemetery, being recorded incorrectly as Richard in the cemetery burial register. There is no headstone to mark the grave, and no record of where in the cemetery the grave is located.
In August 1858 William Hale tendered to supply roof shingles for the new wing of the Portland Benevolent Asylum, in response to an advertisement placed in The Portland Guardian on Monday, August 23. However, there is no record of who won the Tender in the report of the Benevolent Asylum's usual weekly meeting in The Guardian on October 8.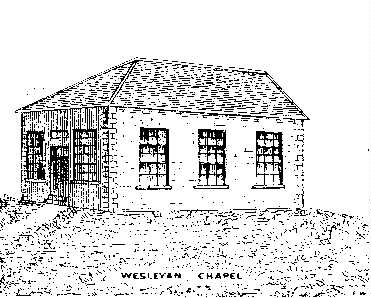 Wesleyan Chapel, Percy Street, Portland, 1853.
A report in The Guardian on Friday, 27 April 1860, records that William Hale was summoned before the Portland Police Court for obstructing the thoroughfare in Bentinck Street. William admitted the charge, and was admonished and discharged. Presumably this occurred in the course of his work. There is, however, another possibility. William was reputedly a heavy drinker.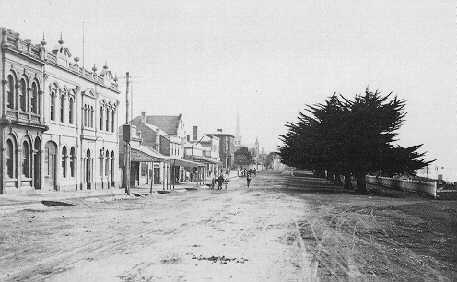 Bentinck Street, Portland.
William apparently earned very good money from his business. However, he supposedly drank so heavily that he never had very much money. Family history recalls that because of his lack of finances "a big estate in Wokingham, called Elmwood, was thrown into Chancery because [he] couldn't go 'home' to claim it. It had a beautiful avenue of laurels with a rustic bridge over a stream (called The Laurel Walk)". William was so short of money that he couldn't return to England to claim his inheritance. The fate of Elmwood is unknown, but the Hales of Portland never made claim to it, and the family memoir records it as "Since sold". Another family memior records William's father as "William Hale of Emmbrook, Berkshire", so it is possible that Emmbrook has been misremembered as Elmwood by other family members.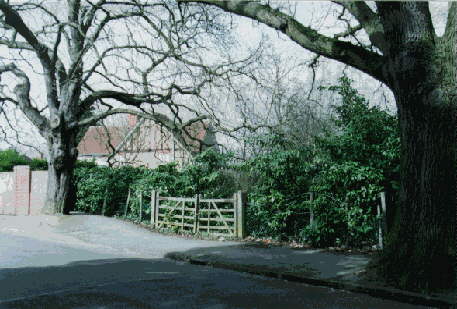 Possibly "The Laurel Walk", a laurel flagged path leading north to the former site of Hale's Farm, Reading Road, Wokingham.
Harriet Hale died on 26 July 1883 at Glenelg Street, Portland, aged 69 years. She had suffered for several years of chronic enlargement of the heart resulting in Anorea (heart failure). Harriet was buried in the Wesleyan Section of Portland's North Cemetery on July 28, a death notice placed in The Guardian recording that the funeral procession started for the cemetery at 2pm.
William Hale died of old age on 2 November 1889 at Glenelg Street, aged 80 years. He is recorded as a Carpenter and Builder, and was buried in the Wesleyan Section of Portland's North Cemetery on November 4. His Obituary from The Portland Guardian reads:
On Saturday Mr. Hale breathed his last, after a prolonged period of illness. The old gentleman reached the ripe old age of 80 years, cause of death was simply old age and general debility.

The deceased was, if not a leading, at least a well known figure in the earlier history of the town, having been for many years associated with the building trade.

The funeral took place this afternoon. The deceased has been in Portland for 36 years.
North Portland cemetery was divided into five compartments for administrative purposes. No plan of grave locations in North Portland Cemetery has survived, though burial records indicating compartment and grave numbers still exist. However, without a cemetery plan the information is of no assistance, other than to ascertain an approximate area of burial within the cemetery. Compartment numbers are shown on the diagram above. The Baptist compartment, Compartment 5, is not shown on original maps, but actual burials indicate that it was a small section located at the northern end of the cemetery.
In the early years of the twentieth century several devastating bushfires swept through the North Portland Cemetery, destroying nearly every headstone. None of the Hale headstones survived, and because no records have survived to indicate grave locations the Hale family graves are lost. However, the Will of William and Harriet's daughter Jane provides a clue as to the identification of the Hale family graves. In her Will Jane stipulates that :
"In case I shall not erect a railing around the grave of my parents and grandparents in the Cemetery at North Portland then I authorise and instruct my [Executor] to have such railing erected at an Expense not Exceeding Twenty five pounds."
It appears that William senior and his wife Alice, and William and Harriet were all buried in the same grave, and that if Jane's Executor carried out her wishes that this grave is now surrounded by a railing.

Sadly for now all that remains to remind us of these people is the story contained within these pages.

<!...END HERE...>