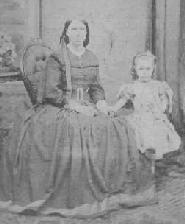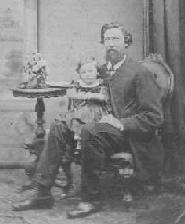 ---
Mary was the first child born to William and Harriet Hale. Born at No. 1 New Buildings, Woolwich, Kent, on 23 December 1838, Mary began life in a poorer area of Woolwich adjacent to the main Market Square. Mary was thirteen years old when her parents emigrated to Australia, and as the oldest child by six years was probably largely responsible for her two young sisters and brother during the three month journey. Mary was most likely baptised with her younger sister and brother on 4 May 1854 in Portland's Wesleyan Church, by the Reverend William Lightbody, but no certificate has survived to prove that this was her baptism day.
Little is known of Mary's early years in the Colony of Victoria, except that shortly after the arrival of her Hale grandparents in Portland in 1856 her step-grandmother, Alice Hale, passed on to her a Bible that she had been given as a parting gift in London. The fly page is inscribed :
Alice Hale. A present
from Mr. James Beswick.
November 22 / 1855.
---------------------------------
I think It will be A very
good Book for my dear
Granddaughter
Mary Hale
---------------------------------
May 12 / 1856
---------------------------------

The 1856 date of the gift has no known significance, though as so little is known about Alice, the date may be that of her birthday, or perhaps of her marriage to William Hale. The date is, however, the day after St. Stephen's Church of England was opened and dedicated, so the gift may have been prompted by this event. The Bible itself has long since disappeared. Only this page has survived.
The reverse side of the fly page carries a religious poem, that reads :
The Sabbath Day.
This day belongs to God alone.
He makes the Sabbath for his own,
And we must neither work nor play
Upon God's holy Sabbath day.
'Tis well to have one day in seven
That we may learn the way to heaven
Or else we never should have thought
About this worship as we ought.
And every Sabbath should be past
As if we knew it were our last,
For what would dying people give
To have one Sabbath more to live.

Mary Hale probably entered straight into employment upon arrival in Portland in 1853, though there is no record of her occupation, even upon her certificate of marriage to Joseph Tyson Stevenson in 1863. Joseph Tyson Stevenson was born in Whitehaven, Cumberland, England, on August 3, 1841, the son of Alexander Stevenson and his wife Eliza (or Elizabeth) nee Tyson. Alexander was a seaman - according to some records a Ships Captain - so Joseph was raised as a seaman. A family memoir records that Alexander and his three brothers owned a vessel, and that they met with some calamity at sea in which Alexander was drowned and the ship lost.
There are many family stories about how Joseph arrived in Australia. One such tale relates that by the age of sixteen Joseph was among the crew of a ship bound for Australia, though the ships name and destined port are difficult to ascertain. The story recalls that at the age of sixteen Joseph jumped ship in port somewhere in Australia, along with another young man and certain other crew members. They supposedly deserted at night, with Joseph left to loose the rope of the small boat used for their escape. They were captured after some short time, and presented with the option of returning to their vessel or being put in prison. Joseph apparently opted for prison, though the other young man is remembered as having returned to the ship. The gaoler was apparently a good man and soon took a liking to young Joseph, and an arrangement was soon made where by Joseph worked for the gaoler, tending his garden. It was understood by his descendants that Joseph had jumped ship in Portland, lured by the discovery of gold. This is the story handed down of the beginning of his new life in Australia.
It is impossible now to ascertain where it was that Joseph jumped ship, but a report in the New South Wales Government Gazette of Friday, 26 March, 1858, records the following ships deserters:
SEAMEN who have deserted from their respective vessels, and been reported at the Shipping Masters Office, Sydney :-

From the "Hougoumont"

Joseph Stevenson, midshipman, 5 feet 9 inches high, fair complexion, light brown hair, blue eyes.
Christopher Cookson, apprentice, 5 feet high, fair complexion, brown hair, blue eyes.
George Kepler, no description.
The above rewards [ie. none! ] will be paid if apprehended while the ship is in harbour.


JOHN McLERIE,
Inspector of General Police.
Office of Inspector General of Police,
Sydney, 25th March, 1858.


It is not unreasonable to speculate that this is our Joseph Tyson, and that heading south to the gold fields he worked his way down from Sydney to Merino Downs, where we find him in 1863. The description seems to fit what can be observed of Joseph from old photographs, though he is remembered as having slightly "reddish" hair. Certainly if the family story is accurate Joseph would have been sixteen in 1858, and given that he was raised in a seafaring family it would be natural for him to go to sea to make a living. Midshipmen were young men who were in charge of the ships crew. The ships' Captains and Masters generally had little time for the Midshipman, and he was usually disliked by the crew, who were often veteran seamen, because he was usually of a very young age and lacked the maturity and diplomacy to manage an experienced crew.
The Hougoumont departed London in the latter half of 1857 bound for India, under the direction of Captain T. Dalton. From India she made her way to Hong Kong where she took on 455 Chinese immigrants, and a cargo of 2928 packages of tea and 400 jars of oil to order for her journey to Sydney. She arrived in Sydney on March 8, and remained in port for seventeen days before departing on March 25 for Melbourne. The deserters were reported only shortly before the ships departure from port. The true identity of this Joseph is for now beyond proving, but the likelihood that he is our Joseph Tyson Stevenson is quite high, so he truly had many adventures in his early years after leaving Whitehaven.
Joseph Tyson Stevenson and Mary Hale married in a Dwelling House at Dwyers Creek, County Normanby, Victoria, on 13 January 1863. Joseph is recorded as a Labourer of Muntham, while Mary is recorded as a resident of Merino Downs, with no occupation or profession. Mary's brother William was witness to the marriage, and also a William Rhodes, who may possibly have been a cousin. It certainly appears that Joseph had no family near at that time, and there is no evidence of Joseph's Stevenson relatives throughout his life, accrediting further weight to the story of him being a ships deserter. Joseph worked as a farm labourer, though a family memoir optimistically promotes him to Station Manager. At some time Joseph is purported to have worked for Trangmars on their property to the west of Portland, in charge of cattle. Trangmars also owned property in the District of Muntham, County Dundas, north-west of Coleraine. At the time of his marriage Joseph gave his present residence as Muntham, so it is likely that he was working for Trangmars there at the time. James Trangmar was a resident of Portland as early as 1844, and was a well respected businessman with a wide range of business interests. His family owned many properties, especially in the Coleraine area. Through Trangmars Joseph Stevenson would have had a natural link with Portland, and it must be assumed that this is how he and Mary met.
Joseph was probably unable to travel to Portland to marry Mary due to work commitments in Muntham, which is probably why Mary moved north and was a resident of Merino Downs at the time of their marriage in January 1863. Nine months later their first child was born. Elizabeth Harriet Stevenson was born on 27 October 1863 at Merino Downs, although Jane Hale's Bible records this as Dwyers Creek (see Appendix K). By the birth of their second child, William Tyson, on 24 October 1865, Joseph and Mary had moved to Portland, presumably when Joseph began working on Trangmar's property in the Trewalla district west of the town. The birth of William marked the beginning of a family tradition, that of giving each child the middle name of Tyson. At the time Joseph's uncle, the brother of his mother Eliza Tyson, was dying. It was said that with him the Tyson name would end, which is why Joseph continued with the Tyson middle name, so as to keep the name alive. This tradition has continued through many generations of Stevensons.
Joseph and Mary's third child, Emma Tyson, was born on 11 September 1868 at Bolwarra, to the north of Portland town, implying that Joseph was employed on a property there at the time. References written out for Joseph by Richmond Henty and Thomas Must have survived from 1870, indicating the frequency with which he moved from one place of employment to another.


Portland
28 June 1870
Joseph Stevenson lived at the Lower Crawford in my service as a generally useful man about the station & he gave satisfaction. He is steady & honest & attends to his work.
J. Richmond Henty

Portland
24th Sept. 1870
The Bearer Joseph T. Stevenson has been in my employment for two months as general servant during which time I have found him sober, steady & industrious. I annex his signature.
Thos. Must
Jos T Stevenson

During his time with Trangmars Joseph became quite familiar with the Trewalla district, and some time between the birth of their fourth child, Alexander Tyson, in January of 1871, and their fifth, Joseph Tyson, in January of 1873, Joseph and Mary Stevenson took possession of a small parcel of land in this area. Family history recalls that this property became known as The Heath. The property was Section 9, Lot 23a, an area of 41 acres 18 perches, located south of the Bridgewater Road in the Parish of Trewalla. A survey map of Trewalla, County of Normanby, dated 24 March 1896, clearly shows that this property was divided diagonally by a surveyed road, separating seven acres of the land from the main property to the south west.
Joseph built a small house from limestone, quarried from a small outcrop at the western end of his property. This original building saw many timber extensions added over the years as the family grew. Given that Mary's father William Hale was a builder it follows that he would have been involved in the construction of that first building on Joseph and Mary's property, their first family home. Two more children were born to Joseph and Mary at The Heath, Charlotte Tyson in September 1874, and George Tyson in October 1876.
The 1896 survey map of Trewalla shows that a William Hale owned a property slightly to the south-east of the Stevenson property. The property was Section 9, Lot 5, an area of 42 acres 3 perches, and was purchased in 1877. A later survey map shows that it was sold to J.J.R. Kean, Newspaper Proprietor, on 22 January 1904. However, Rate records of the Parish of Trewalla also list J. T. Stevenson as the owner of this property, but not as the owner of his own property. It is possible that Mary's father William Hale purchased this property for the use of Joseph and Mary, and that throughout the years their name became associated with the property, even though William Hale had originally purchased it. Whatever the reason, Joseph's name was associated with the property for many years.
Their last child, Eleanor Tyson, was born at Cape Nelson on 19 June 1879. The original house on The Heath was razed to the ground during a bushfire, and it may have been this event which prompted Joseph and Mary's move to Cape Nelson. Trangmars had property at Cape Nelson, so it is possible that Joseph was working for them there at the time of Eleanor's birth. Certainly, for reasons long forgotten, they moved away from The Heath but still retained ownership of the property.
Of their children, all of the girls married. Elizabeth Harriet Stevenson married William James Dunne of Arrarat in Portland on March 17, 1885, and lived with him in Arrarat. Joseph Tyson married Laura Pfundt, and William married Euphie Hazelwood, both moving to Hamilton and pursuing various occupations. William was a Baker, while Joseph Tyson (Jnr.) was a Compositor with the Hamilton Spectator newspaper. In 1907 William was living in Henty Street, Portland, working as a baker. In 1919 Joseph lived in Hamilton Place, Hamilton, and it was there that his Great Aunt Sarah (Mrs. Boys) died. Alexander married Mary Digby, and after working as a fisherman Alex was employed as a labourer at various times in Portland and Bridgewater. Alex and his wife Mary eventually took over The Heath, following a period in which it had lain abandoned after the fire. Emma Tyson married Frederick Ward, and George died at a young age of "anemia", a word which covered many ailments in those days. Charlotte married Frederick Menzel, but she too died young of "anemia". Fred and Charlotte's young daughter Pearl was taken into the care of Alex and Mary, who raised her. Eleanor married Robert Claridge Clarke.
By 1894 Joseph and Mary were renting a premises in Henty Street, West Portland, to which they retired. The property was owned by William Primrose Anderson, Merchant. A letter survives from this period, written by Mary to her youngest daughter, Eleanor. Family friends are mentioned, who have long since been lost to memory. The letter reads :
Henty St.
Matt. III 13-14
Portland
January 29

dear Eleanor,

We were glad to get a letter from you & to know that you were all well & we hope you all have had a sniff of the sea Breeze before now, for we had it quite cold. I suppose we felt it more because it was so hot; when the change did come, it was very welcome. I have had no news from any one, only Miss MacKay came to see us yesterday; brought some flower seed for you. I will send you a little bit of it up. It is called Honesty. I hope George is getting on all right & I hope he will like it more & more & that they will like him. Henry MacKie came to see us yesterday & he told me to tell him he has prayed for him ever since he has been gone from Portland & you know he prays to the purpose / we did not keep Saturday as a holiday but Monday there was not much doing a few picnics that is all.
Mrs. Levett is very ill indeed had both Doctors yesterday. Mrs. Patterson & poor old Mary are gone / here I am telling you all you know I forgot this went by the same Train as you did. I have not heard how Mrs. Levett is today but I hope to hear soon / poor thing I think she frets a lot / give our love to Euphie & Willie & George & Wil's (?) dear little Alex & accept the same yourself & believe me to remain your loving Mother M. Stevenson.
I forgot to say how Lizzie was getting on but I think she is alright if she would only get strong & I suppose she will in time only we are so impatient. Sam Thurance (?) has just called for some water he says their water stinks he was up at Robins so you see it was all in his way & then I suppose he thought he might like a few Plums so you see he killed two or three birds with one stone.

M.S.
Mary Stevenson died 1 September 1902, aged 64 years. She was buried in the Baptist section of Portland's South Cemetery, and was deeply mourned by Joseph. In 1904 Joseph wrote upon a card :
for the Present
of My Dear Wife Mary
Who Departed this life
Sept. 1st 1902. Gone but
not forgotten. 8/6/1904
J.T. Stevenson
Joseph's health was failing when he wrote this, and on 20 November 1904 he died at Hamilton Hospital, aged 63 years. An obituary printed in the Portland Guardian on November 21 reads :


STEVENSON-.....At Hamilton on the 20th instant, Joseph Tyson Stevenson; aged 63 years. The funeral will leave his late residence, West Portland, tomorrow, Tuesday, for the South Cemetery.
We regret being called upon to record the death of another much respected resident in the person of Mr. Joseph T. Stevenson, who passed peacefully onward at the Hamilton Hospital yesterday, of which institution he had been an inmate for some time. The deceased was a resident of Portland for a long number of years, always enjoying the respect and good will of the residents. The funeral leaves his late residence, West Portland, to-morrow for the South Cemetery.
Joseph was buried in the Baptist section of Portland's South Cemetery. Sadly there is no headstone to mark the grave of this great pioneering couple.

Following the death of Joseph the property in Henty Street was rented by Alexander Tyson Stevenson from 1904 to 1906, after which William Stevenson rented it from 1907 until 1908. The property was sold shortly afterwards.

<!...END HERE...>