The Hale Family of The Retreat and
Hales Place, Vauxhall, c1830.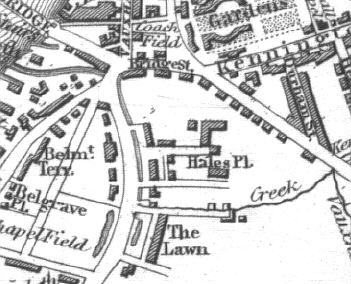 Hale's Place, Vauxhall,
1832.
From Lewis's Topographical Dictionary.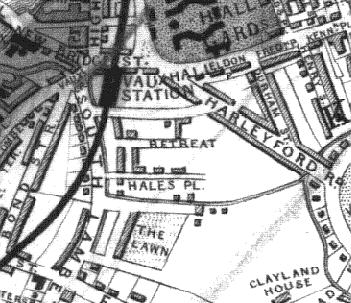 Hale's Place, Vauxhall,
1854.
From Davies's New Map of the British Metropolis.

| | |
| --- | --- |
| | NOTE: There is a probable link between this Hale family and the family of Samuel Hale of Saint Mildred Poultry with Saint Mary Colechurch, London. Click the arrow for more information. |


William HALE
Born: c1766 (Source: 1841 Census)
Abode: 1841 - Hales Place, South Lambeth, Surrey
+ Sarah HELLING
Baptised: 25 Jan 1763, Saint Andrew, Holborn, London, England (Source: IGI, from PRs)
Father: Edward HELLING (Source: IGI, from PRs)
Mother: SARAH (Source: IGI, from PRs)
Married: 18 Apr 1793, Saint Mary Le Bow, Cheapside, London, England (Source: IGI, from PRs)
Marriage Licence: Vicar-General Marriage Licence dated 17 Apr 1793
Abode: 1841 - Hales Place, South Lambeth, Surrey
Abode: 1850 - No 8 Kennington Green, Kennington, Surrey

Died: c1850
Will: Proved 16 December 1850, London.
Will
Dated
17 January 1847

Recorded Executor of Will (17 January 1847): William Yewd (Nephew) of East Street, Red Lion Square, London.




The following Hale family are associated with William and Sarah Hale of Hales Place :

Edward HALE
Born: 4 May 1777 (Bible details)
Died: July Qrt 1852.
+Eliza JAMES
Born: c1787
Married: 22 Aug 1808, St Luke Old Street, Finsbury, London, Middlesex ?
Died: at son Alfred's house, 16 Mar 1860, Steeple Ashton, Wiltshire.

Children of Edward and Eliza HALE:
1. Ann Clara HALE b. 16 Feb 1808 (bible), d.21 Jan 1830 (Bible)

2. Christopher HALE b. 19 Apr 1811. d 3 Jun 1812 (bible)

3. Edwin HALE b. 19 Mar 1813, bur Steeple Ashton but of Lambeth Surrey, 19 Jun 1848 @ 34 yrs

4. Alfred HALE b. 17 Jul 1815 in London (census) bur 24 Apr 1879 @ Steeple Ashton. Justice Clerk, Agent/Overseer @ Steeple Ashton for LONG family. Married Maria Clarissa WOOD, d of John Edward Wood & Maria BLAKE, of Trowbridge, @ St Peter's Stepney, MDX. Had 3 children -



a. Fanny Anne HALE 1851-1924 m. 1882, James MOTTRAM in Norfolk.


i. Ralph Hale MOTTRAM 1883-1971 - a famous writer "The Spanish Farm" etc., & Lord Mayor of Norwich. Was a bank clerk at Gurney's bank before WW1.
ii. Alfred Hugh MOTTRAM 1886


b. Alfred HALE bap 26 Jul 1853 @ West Ashton, Wilt, d 1914 (Bible) Further details unknown.
c. Henry Walter HALE 1855 -1910, a Clerk of Wimbledon, Surrey. Married Mary Ann U/K & had 3 children - Charlotte Henrietta in 1874; Anne Matilda in 1876; Florence Clara Jane in 1878. May have had more children.



Alfred remarried June (?Long) of Hilperton, Wilt.

5. Frederick HALE born 17 Aug 1817, d Mar 1853 @ Steeple Ashton, Wilt.

6. Charlotte HALE born 29 Dec 1819, d. Mar 1853 @ Steeple Ashton, Wilt but of Lark Hale, Walsh?, Somerset.

7. Henry HALE
Born: 22 Dec 1822, London, England.
Transported: to Tasmania for robbery in Trowbridge, Wiltshire, England. Recorded under "HAYLE/HOYLE" - CON 16/3, p.4 & CON 37/2, p.494 - Arrived TASMANIA on the "Louisa" 28 May 1845. Committed Highway Robbery with another, F GREEN. Description: Sailor by trade, 23 yrs, 5ft, 7 1/2 inches tall, light complexion, small head, light brown hair, small sandy whiskers, long visage, narrow forehead, sandy eyebrows, grey eyes, medium nose mouth chin, Native place - Trowbridge, Protestant, can read & write, Large scars above both knees. Recommended for Ticket of Leave 8 Oct 1851, approved 4 Oct 1853. An interesting entry in brackets is "Johann Ivy Hale" - is most likely an alias.
Died: 2 Jul 1895, Korumburra, Victoria, Australia.
Buried: 4 July 1895, Korumburra Cemetery. Grave - Plot Y, 47.
1st wife of Henry Hale:
+Sarah CLOTHIER
Born: 2 Feb 1834, Bagdad, Tasmania, Australia.
Married: 27 Jan 1852, Glenorchy, Tasmania, Australia.
Died: 6 Aug 1866, "Swan Reach Station", Victoria, Australia.
Buried: 9 Aug 1866, "Swan Reach Station", Victoria, Australia.
Father: John CLOTHIER
Mother: Anne ALDEN



a. Alfred Edward Hale 1852-1853
b. Henry Arthur HALE 1854-1889. Married & had kids
c. Douglas Thomas HALE 1857-1860
d. Elizabeth Jane 1859-1940. Married & had kids
e. George Thomas HALE 1861-1941. Married & had kids
f. Eliza Ann HALE 1863-1946. Unmarried
g. Sarah HALE 1866-1956, Unmarried.



2nd wife of Henry Hale:
+Mary HILL (nee FORDHAM)
A widow with 3 living & 7 deceased children.
Born: Halifax, Nova Scotia.
Married: 15 Feb 1876, Wesleyan Church, Bairnsdale, Victoria, Australia (Registration Number: 262)

8. Christopher HALE born 25 Mar 1824. Went to the Californian goldfields. Letters X 4 written to his Mother & brother Alfred 1855-1857. Whereabouts unknown


NOTES:

In 1833 Frederick Hale was staying with Edward's Uncle William at Hale's Place, Retreat, Vauxhall, Surrey, according to his letter written to his brother Alfred. The family had become bankrupt about this time in the depression of 1830 in Trowbridge, Gloucestershire, and Uncle William was helping out.

It appears that the family were not originally from this region. Most (who lived long enough) are recorded on later census as born in London. Edward's Grandchildren are later found living in Wimbledon. Edward' wife Eliza was visiting relatives in Kent in letter of Christopher's. Unfortunately no names or place names were given.


For more information about this Hale family e-mail Jenny Williams.