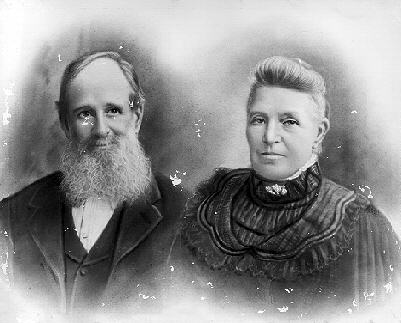 Composite photograph that hung upon Beatrice's wall. The woman is probably Sarah Jane Hale. The identity of the gentleman remains uncertain.
Sarah Jane Hale born 1832, Blackheath Hill, Kent, England.
Sarah Jane was the third child born to William and Alice Hale. Sarah Jane was born at Blackheath Hill, Greenwich, Kent, on 19 April 1832. William and Alice were resident on Blackheath Hill from 1832 until 1836, William conducting his carpentry business from the residence. On June 24 Sarah Jane was baptised in St. Alfege Church, Greenwich, by R. Dallin.
After 1836 the family moved from Blackheath Hill and are lost to all records until their arrival in the Colony of Victoria in the 1850's. Sarah probably started her working life as a governess or assistant in a school. Working somewhere in Kent, she learnt the Pestalozzian method of teaching, gaining experience as a school teacher. At the age of 21 years Sarah Jane Hale emigrated to Australia as an assisted immigrant on board the ship Joshua. The Joshua, a ship of 804 tons, departed Southampton on 24 June 1854 under the direction of Master John Fowler, and arrived at Geelong, Victoria, on September 28. There were only five deaths during the voyage. The passenger list records Sarah Jane as a Domestic Servant. She was a Wesleyan who could read and write. The Joshua carried 340 government immigrants, and amongst its cargo a consignment of 14,816 chairs.
On 5 October 1854, Sarah was engaged for three months by Mr. Leonard Hopper of Barrabool Hills, near Geelong. She was probably employed as a governess for the children of Leonard and Jane Anne Hopper. Her wage was £50. After her term with the Hopper family in Barrabool Hills Sarah Jane made her way to Portland, where her half brother William lived. Sarah soon established herself in Portland, and in December 1855 advertised in The Portland Guardian the opening of an Infant School in January.
MISCELLANEOUS

Pestalozzian System.

MISS SARAH HALE lately arrived from England begs to inform the inhabitants of Portland that she has taken a house opposite Mr. Robertson's Iron Store, Percy street, where she intends opening a school for children not exceeding 9 years of age, under the above new system. Parents will find the above named system which is adopted throughout England a decided improvement.

Terms moderate.

And to commence early in January.
The Pestalozzian Method, developed by Swiss born Jahann Heinrich Pestalozzi in the late 1700's, is based on the principle that "...the development of human nature should be dependant upon natural laws, with which it is the business of every good education to comply. In order to develop a good teaching method, learn first to understand nature, its general processes in man, and its particular processes in each individual. Observation, the result of which is a spontaneous perception (intuition) of things, is the method by which all objects of knowledge are brought home to us...".
Under the jurisdiction of the Church of England, Sarah Jane Hale commenced her Infant School on Tuesday 1 April 1856. Sarah Jane was granted an annual salary of £80, plus house rent of £20 per annum. The first year saw an enrolment of 57 pupils, being 20 boys and 37 girls, under the competent supervision of Miss Hale.
In early 1857 School Inspector James Bonwick visited her school, and made the following report:
1.(Building) ...rented building...too small.

2.(Apparatus) ...excellent supply of apparatus, renumeration frames, blackboards, maps, books.

3.(Organisation) Superior classification and arrangements.

4.(Instruction) Reading, spelling, arithmetic & writing very good.

7.(Teachers) Mistress well educated...unrivalled in moral influence and specially happy in teaching. Monitors specially trained...conducting her classes admirably...they are paid by the teacher.
The rented building referred to was that in Percy Street where the school was situated from the time of the first advertisement in 1855. Bonwick enthused in his report :
The Infant School gave me great satisfaction from the superior character of teaching and the most pleasing exhibition of a thorough system of moral training. The mistress needs a building to carry out her admirable plans.
James Bonwick wrote of his experience in "Western Victoria, its Geography, Geology and Social Conditions", the narrative of an Educational Tour in 1857, published by Thos. Brown of Geelong in 1858 :
Decidedly the best school in the town and the best in the Western District is the Church Of England Infant School. The youthful mistress is a disciple of the Birkbeck system of Illustrative Object lessons. Acquainted with some of the ablest teachers in the colonies, I have never listened with such pleasing surprise as I did when hearing a lesson from this lady. Her mode of treating moral subjects was equally happy and her influence over the scholars, one only of intelligence and love, was a perfect spell. The possession of more suitable premises and abundant appliances would enable her to develop her admirable system. I was quite shocked to hear that she was going to be married, though somewhat consoled on finding that her labours would be continued in the school.
This was a very favourable report for a school just one year old.
On 1 July 1857 Sarah Jane Hale, aged 25, married Thomas Mold Boys of Portland, aged 23, in St. Stephens Church of England, Portland. Thomas was born in London, the son of Thomas Mold Boys, a Coach Proprietor, and Letitia (nee Dring). The marriage was witnessed by her half-brother William Hale and niece Mary Hale. On the marriage certificate Thomas was recorded as a Labourer, though later documents record him first as a Chemist, and later a Shipping Clerk.


From 1858 to 1859 Thomas Boys rented a cottage in Tyers Street, next to the corner house of Tyers and Bentinck Streets. The Church Of England Infant School would have been conducted at these premises during those years. On 31 July 1858 Thomas and Sarah's first child, Walter, was born in Portland, and on 23 February 1860 a daughter, Alice Letitia, was born to them. From 1859 to 1862 Thomas Boys owned a cottage and school in Hurd Street, just around the corner from Tyers Street.
Denominational Board records show that on 1 July 1860 Charlotte M. Wilson was employed as Sarah's assistant. In December 1861 School Inspector Miller visited the Church Of England Infant School and made a detailed report of his findings :
1.(Building) Wood shingled. About 20' x 15' with an additional classroom 12' x 12'. In fair repair.

2.(Apparatus) Sufficient for present wants, save that there is no gallery.

3.(Organisation) Good.

4.(Instruction) Generally sufficient and satisfactory.

5.(Discipline) Good.

6.(Methods) Mixed - monitorial.

7.(Teachers) S. J. Boys Trained. Manner easy, animated and effective. Possessed of more than average ability as an instructress of juveniles.

Charlotte M. Wilson Untrained. Assistant. Pronunciation very good. Manner fluent and effective. Lesson well arranged. Exposition apt and sufficient. Promises to become a most successful teacher....
The classroom detailed as 12' x 12' was used to house between fifty and sixty pupils.
On 13 February 1862, Thomas Mold Boys died at his residence in Hurd Street of heart disease, aged 28 years. After Thomas' death Sarah sold the property to Joseph Haggeston, but continued to occupy it from 1862 until 1874, renting it from Joseph Haggeston. The Infant School continued to be conducted at these premises.
A School Inspector's report on Denominational Schools from February 1864 records Sarah J. Boys and Emma Hale as Teachers employed at the Portland Church of England Infant School, with S. J. Boys receiving payment for rent of the school building. Shortly after this report Sarah moved the Infant School to the Gaelic Church (Free Presbyterian Church) building in Palmer Street, to overcome the space restrictions of her premises. However, the Church building was in such poor repair that she was soon forced to return to her premises, as an article in The Guardian on Thursday April 28 reports :
INFANT SCHOOL. - On Monday evening last I paid a flying visit to the Infant School, so long and so successfully conducted by Mrs. Boys, and found everything but the school building in proper order. Recently Mrs. Boys abandoned her own premises - and carried her pupils with her to the Gaelic Church - a large scrambling building, which unless something is speedily done to keep in repair, will in all probability tumble down. The south wall at the west end already shows indications of quitting the perpendicular and certainly from the appearance of the place we would say that in a high wind there would be great danger. Then the walls were unplastered, no ceiling - several holes in the roof, scarcely a whole pane of glass in the windows - and upon the whole, a more dilapidated tumble down building for an infant school can scarcely be imagined. Mrs. Boys seems to think in the same way, as since Monday she has carried her pupils back to their old quarters - where if there be less room, there is certainly greater comfort. But now for the school - we found in attendance 82 children of both sexes, ranging from eighteen months to seven years old - all neat in their dress and cleanly in person. We observed that the teacher had perfect control amongst her little flock - but in anything we witnessed there was no attempt at coercion - and the terror of either taws or other instruments of infant torture, with which with some of our readers doubtless in days gone by were practically conversant, is unknown. We had little opportunity of testing practically the knowledge of the pupils in the establishment but the singing and customary manual exercises were carried out with accuracy - and we were shown two boxes of fresh apparatus recently received from England, the contents of which would puzzle some of our grown up friends that wear crinoline or mustaches. In this collection we find silk in every stage; cotton, from its first appearance in the pod, till its highest manufacture - paper- from the rag to its glossiest perfection in the sheet, and in every variety; but it would be impossible, even if desirable, to enumerate one-half the contents in a column, they must be seen to be understood. We understand that the boxes are partly the result of a public collection of £3 4s., made by the Misses Milne, Wilson, and Hale, monitors; there are also plenty of tablets, picture lessons on natural history and moral subjects. About six monitors are usually employed in the school. The average attendance for the quarter ended 31st December, 1863, was 92, and for the two months ending February, 91. Recently, Mrs Boys sent away 20 of the elder children, as none over the Board standard, of 8 years as the maximum, are permitted in any infant school. And now a word about the abandoned school-room, the Gaelic Church, about 50 feet in length by 27 in width. There could not be a building in the colony better adopted for school purposes - pleasantly situated, the shell roomy, and a spacious play-ground. We are not acquainted with any of the Trustees of the church, but we consider that it is a great pity, a building, which cost so much, should be allowed to crumble away uselessly, more particularly when great good might be done, by devoting it to school purposes, and an infant school of all others is that in which the great bulk of the people feel an interest.

There are two ways in which the church could be made useful. First, by handing it over to the Board of Education for school purposes, in which case the repairs now required would be done by the Board. 2nd, the Trustees should take into their body a number of the townspeople interested in education - make an arrangement that the church should be made over for five or seven years to the public, but still held in trust for the original owners - and then the public would contribute as much as would place it in repair for school purposes. We would commend one or other of these suggestions to the consideration of the Trustees, and will be happy to co-operate either with the Trustees or any others in the community who feel an interest in providing a suitable room for an infant school.
A note in the Admissions And Minute Book Of The Portland Hospital from December that year records that a gift of £1.15.2 had been received from Mrs. Boys' School. The next mention of the Infant School is in the form of an advertisement placed on Thursday January 9, 1868, stating that "duties will be recommenced on Monday, January 13". The following Monday another advertisement appeared :
PORTLAND INFANT SCHOOL
---------------------
Mrs. Boys begs attention to the following scale of charges, which must be strictly adhered to, viz.:-
1st
Class,
...
2s per month
2nd
"
...
3s per month
3rd
"
and girls over eight
4s per month
Payable in advance.
Sarah's father William Hale died on 17 August 1868, aged 80, at Sarah's residence in Hurd Street, and was buried in the North Portland Cemetery. Her parents had been living with her since 1861 when they sold their property in Tyers Street.
Some time prior to December 1868 Sarah Jane again moved the Infant School from her residence in Hurd Street to the Gaelic Church in Palmer Street, where the school remained. A report in The Guardian on 3 December 1868 again sings Sarah's praises :
THE INFANT SCHOOL - We have so often drawn attention to the character of Mrs. Boys' infant establishment, that in this place repetition is hardly necessary. The same round of singing, object lessons, rhymes, physical action, writing on slates and black boards is still industriously pursued and apparently with the maximum of result. It is wonderful to see the readiness with which urchins under eight years of age will write down on their slates lines of figures four or five deep and the facility and accuracy with which they will sum them up. There is much in the machinery of infant schools to attract and benefit the infants, and we believe there are few teachers in the colony capable of putting the machinery more effectively in motion than Mrs. Boys. There is apparently nothing coercive in the conduct of the school - and possibly from this the children seem to be as happy as any parent could wish. We are sorry to have to add that the play ground while extensive is far from picturesque and neither the building, ground, nor fence, are in such a state as to promote that aesthetic training which we hold as necessary in common school education. We shall be happy to promote as far as in us lies any general movement which shall have for its objects the improvement of the church and school grounds of Portland. At Mrs. Boys' school we found between 90 and 100 pupils in attendance, and we understand this is rather under than over the general average. The children are mixed as in after life, males and females together, and whatever may be said to the contrary, under proper conditions, we hold that mixed not separate schools are the schools of nature. The girls may lose a little by the contact but the boys gain immensely.
On 21 June 1869, School Inspector Geary reported to the Board Of Education that the Gaelic Church building :
...is at present used by Mrs. Boys as an infant school in connection with the Board Of Education. Mrs. Boys holds the building under an agreement from the trustees, but she pays no rent, and the trustees take no interest in the matter.......I believe they would be most willing to hand over the property to the Board Of Education - their only object being as far as I can learn to prevent the land and building going to the United Presbyterians. Mrs. Boys has laid out a considerable sum of money on repairing and improving the building.
A report in The Guardian on 23 December 1869, shows that things were slowly but steadily on the improve :
MRS. BOYS' INFANT SCHOOL - Within the past year great improvement has been made in the school-room. The walls have been plastered, a new ceiling put up, and the north windows glazed; the whole costing £40. The room is at present beautifully adapted for school purposes, and the school is as popular and well attended as ever. On the rolls we found the names of 69 boys, and 59 girls, in all 128 pupils; the average attendance for the last half year is 80, and of these 78 percent passed the Boards standard in June. We learned from Mrs. Boys that of the £40 spent on the school room in repairs, £11 19s 6d was realised at the public reading, with £2 additional subscribed, and that a debt of £26 remains to be cleared off. We would suggest a second reading, the first time Mr. Geary visits the district, and we believe he would get sufficient assistance amongst our amateurs, and sufficient patronage from the public generally, to clear off the old score, or at least lessen it very materially.
A notice in The Guardian on 10 December 1870, announced:


INFANT SCHOOL
--------------
This school broke up for the Christmas holidays on Friday, the 16th inst., on that day there were 70 children present. The duties will be resumed on the 9th of January.
------------------------------------------


INFANT SCHOOL
--------------
The Duties of the above School will be resumed on Monday, 9th January, 1871.
Fees.
Alphabetical Class . . . . . . . . . . . . . . . . . . . . .
. . .
. . .
£0 0 6
2nd . . . . . . . . . . . . . . . . . . . . . . . . . . . . . . . .
. . .
. . .
0 0 9
Children above eight years of age . . . . . . . . . .
. . .
. . .
0 1 0
except where more of one family attend.
(Weekly)


A report in The Guardian on Monday 23 December 1872 reports of the examination of teachers in Portland :
EXAMINATION - Special examinations of teachers and pupil-teachers. Mr. Broadribb, Inspector Of Schools, held an examination of teachers and pupil-teachers on Saturday, the 14th inst., in Portland Common School 489. The examinations were conducted orally and by means of written paper. The following are the names of the candidates and the schools to which they belong -

.......Mrs. Boys' School, 499; .......
The results were published in The Guardian on Thursday, 9 January 1873 :
SPECIAL EXAMINATION OF TEACHERS - The result of the special examination of teachers and pupil-teachers in Portland on the 14th of December by Mr. Broadribb, was known in Portland on Saturday last. The names of the successful candidates are as follows -

.......For the third and second classes - Miss Davis from Mrs. Boys' Infant School, who was the only candidate for two classes.......
On Monday 12 December 1874 Sarah Jane's school became a State School :
"We are glad to learn that the trustees of school No. 499 having in accordance with requirements of the Education Act elected to lease their building to the Department, the Portland Infant School has now become a State School, and that the duties under Mrs. Boys's able superintendence will be resumed on Monday next."
Within three months after being absorbed into the State School system the Portland Infant School ceased to exist. On 31 March 1874 it was amalgamated with the main State School No. 489, and it must be presumed that Sarah became the Infant Mistress of that school, though she did not remain in that position for long.
On Monday 5 April 1875 Sarah Jane's mother Alice Hale died at Sarah's premises in Hurd Street. Sarah Jane placed an obituary notice in The Guardian the following day, which reads:
D I E D

HALE - At the residence of her daughter, Hurd-street, Alice Hale, the dearly loved mother of Mrs. Boys, aged 81 years.

"He giveth his beloved sleep."

Funeral to take place to-morrow (Wednesday) at 2 p.m.
Around this time Sarah Jane bought her house in Hurd Street, and on Tuesday 10 August 1875 took up the position of first Head Teacher of the new Mount Richmond School. The original Mount Richmond school where Sarah taught was a sandstone building located 12 miles west of Portland on the south side of the Richmond-Bridgewater Road, in the Parish of Tarragal. Sarah only remained at the school for one year, resigning her appointment on Saturday 30 September 1876. This seems to have been Sarah's final appointment in the Victorian School system.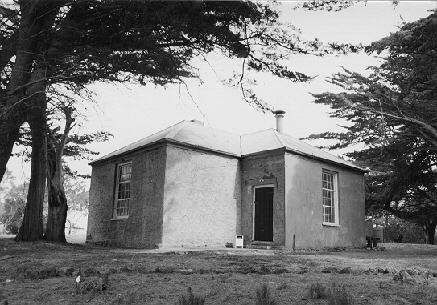 Mount Richmond School.

On 15 March 1882 Walter Boys, the son of Thomas Mold and Sarah Jane Boys, married Elizabeth Saunders of Koroit, at Rosemount, the Saunders' property near Koroit. Walter, aged 23, was a Telegraph Operator of Adelaide, South Australia. Elizabeth was aged 22. After their marriage they returned to Adelaide, where Walter was stationed at the Telegraph Department at Goodwood. He was a resident of Essex Street.
Two children were born to Walter and Elizabeth Boys. Thomas Mold Anderson Boys was born on 17 December 1882 in Gouger Street, Adelaide, and Walter Mold Anderson Boys followed on 14 June 1886. Six days later Elizabeth Boys died, presumably from complications arising from the birth. A death notice was placed in The Adelaide Register newspaper, probably arranged by Walter's cousin William Hale, who was a Compositor for The Register at the time.
DEATH

BOYS

20 June 1886, at her residence, Leader Street, Goodwood West, the wife of W. BOYS of the Telegraph Department of S.A., and niece of William ANDERSON, Esq., M.L.A., of Rosemount, Southern Cross, Victoria.

Age 26 Years.
Elizabeth Boys was buried in West Terrace Cemetery on 21 June 1886. William Anderson had married the sister of Elizabeth's mother, and was a Member of the Legislative Assembly.
Harriet Hale, the wife of Sarah Jane's half brother William, died on 26 July 1883 at Glenelg Street, Portland, aged 69 years, and was buried in Portland's North Cemetery on July 28. Meanwhile, Alice Letitia Boys had become the Post Mistress at Magill, South Australia, in 1882, however she was forced to resign the position in November 1883 on account of her mother being ill. In 1884 Alice was appointed as a Provincial Teacher at the German Flat School, south of Millicent, South Australia. She took up her appointment on April 1, 1884, but resigned on December 31 of that same year. It must be assumed that she became a teacher under the guidance of her mother. It is thought that in 1886 she moved in with Walter in Leader Street, Goodwood, and took over care of his children after the death of his wife.
On Tuesday 21 July 1885 Sarah Jane Boys, aged 57 years, married William Donald Glasse, a bachelor of Penola, aged 75 years. Sarah was a resident of Julian Street, Penola, and the marriage was conducted at her premises by the Minister David Souter. No occupation was recorded for Sarah Jane, implying that if she had moved to Penola as a school teacher she had by this time retired. William Glasse was a resident of Robe Street, Penola, after having been for many years a farmer of Troubridge and then Penola. William Donald Glasse was born in Scotland in 1809, and arrived in South Australia in 1848 on board the William Henry.
In 1887 Walter Boys bought his mothers premises in Hurd Street, Portland. By this time it was a building lot. Walter sold it in 1894 to Arthur Goldsmith. From 1887 until 1891 Walter Boys continued working as an Operator at the Goodwood West Extension of the Adelaide Telegraph Department, and was a resident of Charles Street. On 19 March 1889 Walter Boys remarried to Marian Selina Saunders, the half sister of his first wife Elizabeth. They married at The Registry Office in King William Street, Adelaide. Three children were born to Walter and Marian, a daughter named Ethel Winifred May on 12 May 1890 at Goodwood, another daughter named Alice in 1893, and a son probably born in a South Australian country town. From 1893 onwards Walter was posted to country locations, becoming the Post Master at Blanchetown in 1893, Eudunda from 1894 until at least 1914, Naracoorte in 1919 and 1920, and Snowtown in 1923. In 1924 he retired to his residence at 10 Farrant Street, Prospect, Adelaide, where he died in 1942. Walter Boys was buried in the North Road Church Of England Cemetery, Collinswood, S.A.
Alice Letitia Boys, the daughter of Thomas Mold and Sarah Jane Boys, married Charles Henry Young on 21 August 1889, at the Adelaide Registry Office in King William Street. Her address at the time was given as Leader Street, Goodwood. Charles Young was the son of Charles Young and Margaret (nee Bones) of Penola. Charles Young senior arrived in South Australia by 1855, and became a farmer in the Penola region. Three children are known to have been born to Alice Letitia and Charles Young. Alice Letitia would have met her husband in Penola while visiting with her mother.
Sarah Jane's half brother William Hale died on 2 November 1889 at Glenelg Street, Portland, aged 80 years, and was buried in Portland's North Cemetery on November 4. On 29 January 1891 William Donald Glasse, Gentleman, died at his residence in Penola, South Australia. The cause of death was recorded as Senile Decay. In his will William left all of his property to Sarah Jane, having no heirs to whom he could pass his estate.
After the death of her husband Sarah Jane Glasse moved to Hamilton, Victoria, along with her daughter Alice Letitia Young, whose husband Charles' fate is unknown. Sarah Jane lived in Ballarat Road, Hamilton. On 6 October 1918 Alice Letitia Young died in Cox Street, Hamilton. A death notice appeared in The Hamilton Spectator newspaper on October 8, for which her cousin Joseph Tyson Stevenson (Junior) worked as a Compositor.
DEATHS :

YOUNG - On the 6th at Cox Street, Hamilton, Letitia Young, Mother of Raymond and Philip (Phil, Mt. Gambier) and Celia (Beatrice, Hamilton), daughter of Mrs. Boys, late of Portland - aged 58. She was buried at Hamilton 8th.
Alice Letitia Young was buried in the Church of England section of Hamilton Cemetery, in Section 5, Grave No. 16. The grave is unmarked.
On 20 January 1919 Sarah Jane Glasse died at the premises of her nephew Joseph Stevenson Jnr. in Hamilton Place, Hamilton,Victoria, aged 87 years. She was buried with her daughter in the Church of England section of Hamilton Cemetery, Section 5, Grave No. 16, on January 21. On Friday 21 January 1919 the following obituary was printed in The Portland Guardian :
A well known resident of Portland in the early days, Mrs. Boyes, departed this life at the residence of Mr. J. Stevenson, of Hamilton, and formerly of Portland, on the 20th ult., she having reached the age of 86 years and 10 months. The late Mrs. Boyes opened an infant school in Percy Street, Portland, in 1855, and at different times also conducted similar institutions in Tyers and Hurd Streets, and in the Old Gaelic Church in Palmer Street. She afterwards opened a school at Mt. Richmond. A few months ago, Mrs. Boyes visited Portland, and renewed acquaintance with many of her old friends and pupils. Her son, who survives her, is the Postmaster at Naracoorte, Mrs. W. Cooper and Miss Hale of Portland, and Mrs. Clarke of Warrnambool being nieces of the deceased.
It truly is sad that there is no headstone to mark the grave of this great pioneering woman.

The photograph at the top of this page belonged to Alice Letitia's daughter Beatrice. It was bequeathed to a Local History Museum at Mallala, South Australia, upon Beatrice's death, along with the certificate presented to Alice Letitia in 1873. The photograph dates from the mid 1890s, and hung on a wall in Beatrice's house. By process of elimination it is likely to be of Sarah Jane Glasse. The identity of the gentleman remains a mystery.

<!...END HERE...>